Israel's cybersecurity startup scene spawned new entrants in 2019
As the global cybersecurity market becomes increasingly crowded, the Start Up Nation remains a bulwark of innovation and opportunity generation for investors and global cyber companies alike. It achieved this chiefly in 2019 by adapting to the industry's competitive developments and pushing forward its most accomplished entrepreneurs in larger numbers to meet them.
New data illustrates how Israeli entrepreneurs have seized on the country's reputation for building radically cutting-edge technologies as the number of new Israeli cybersecurity startups addressing nascent sectors eclipses its more traditional counterparts. Moreover, related findings highlight how cybersecurity companies looking to expand beyond their traditional offerings are entering Israel's cybersecurity ecosystem in larger numbers through highly strategic acquisitions.
Broadly, new findings also reveal the Israeli cybersecurity market's overall coming of age, seasoned entrepreneurial dominance and greater appetite for longer-term visions and strategies — the latter of which received record-breaking investor backing in 2019.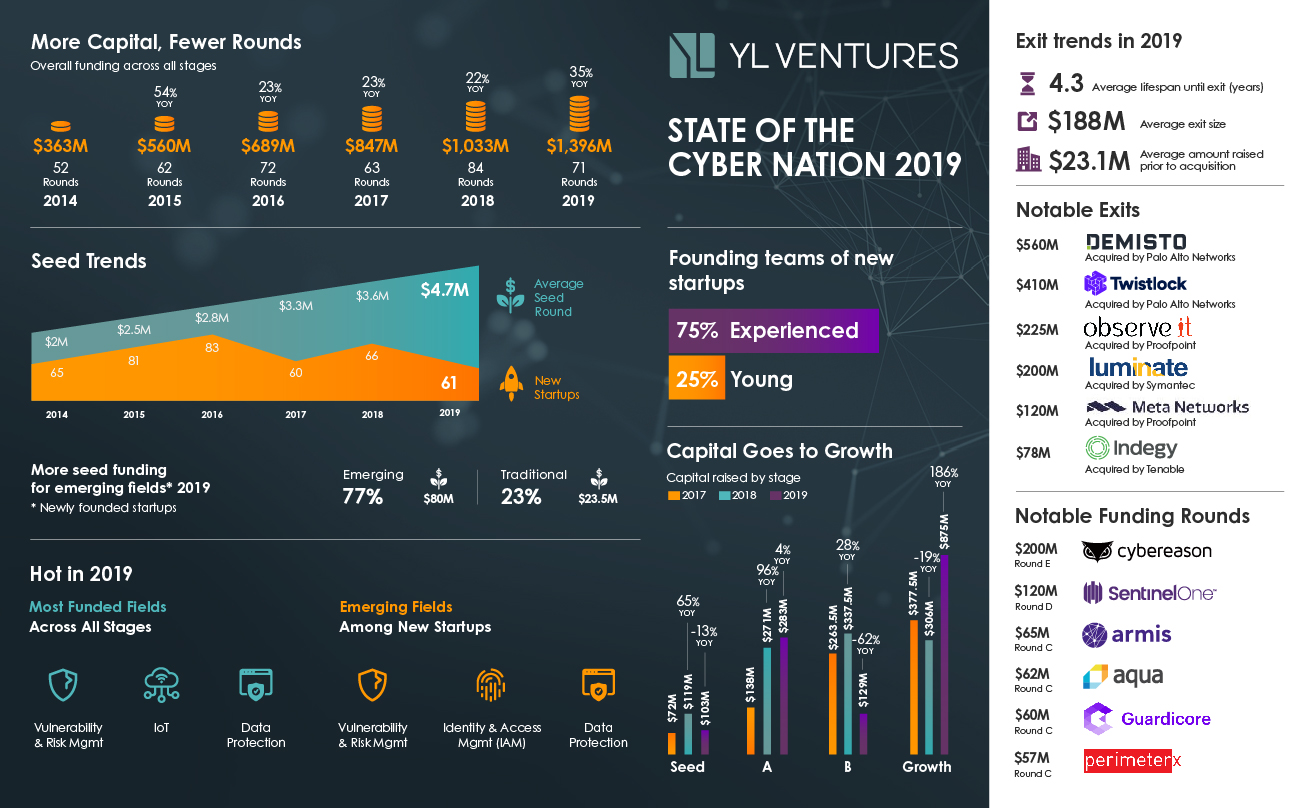 Breaking records
The Israeli cybersecurity industry saw a 35% increase in investments from 2018, with overall funding for startups totaling almost $1.4 billion. This increase is a continuation of an ongoing five-year trend that has seen larger and larger amounts of capital pour into Israel's cybersecurity ecosystem. As in previous years, the vast majority of capital came from foreign investors ⁠— namely U.S.-based venture capital funds.
Average seed rounds continued to grow and reached an all-time high of $4.7 million in 2019, surpassing last year by 30.5%. This may be explained by an emerging trend in the formation of Israeli startups; Israeli cybersecurity entrepreneurs are thinking bigger with plans to build longer-lasting businesses around solutions that tackle the industry's largest problems. Incorporating go-to-market programs and initiatives into their decks from day one, today's entrepreneurs are asking for more initial capital to turn their increasingly ambitious visions into reality.
Bigger and more ambitious
The pedigrees of new startup founders may also account for 2019's larger initial seed rounds. Indeed, experienced entrepreneurs, meaning serial entrepreneurs and experts who held senior positions on established cybersecurity teams, made up 75% of new founding teams in 2019.
This trend may be explained by growing investor attraction to experience as the primary key to navigating the market's competitive shift; in the wake of progressive overcrowding and CISO fatigue, getting a foot in a security executive's door has never been so difficult. Today, CISOs find themselves bombarded with dozens of solutions a day by vendors looking to add onto already-bloated security stacks. To break through the noise, entrepreneurs are now obligated to pursue solutions that reflect a deeper understanding of their streamlining needs and their most highly prioritized concerns.
As a result, many would-be Israeli entrepreneurs are now looking to develop a stronger presence in the ecosystem, as well as better professional experience, before launching their own ventures. Joining high-profile cyber companies and teams first, they are waiting until they have developed a better sense of the market, customer needs, business acumen and a stronger network before breaking off on their own.
Growth-focused
Aspiring beyond quick exits and building more ambitious solutions, experienced entrepreneurs are remaining invested in their projects for longer as they commit to creating lasting and more impactful companies. Investment patterns reflect backer alignment with these goals; the majority of capital is increasingly focused on growth, with over $875 million invested in growth stages this year.
This marks a 186% increase from the prior year, a significant rise that can be explained by Cybereason's gargantuan $200 million E round, led by SoftBank, as well as a number of other exceptionally high follow-on rounds across the Israeli cyber ecosystem. Some of the latter include those that took place in SentinelOne, Cato Networks and PerimeterX. Indeed, these developments strongly indicate the Israeli market's growing maturity and investor faith in the potential and endurance of its companies.
Hot fields in 2019
Emerging fields received the greatest share of seed-stage investments in 2019, accounting for 77% of this year's seed funding, with capital totaling $80 million. Among them, cloud-native data protection, identity and access management, and vulnerability and risk management (VRM) collected the largest total seed rounds. This includes firebrand newcomers Cycode, Cycognito, Satori Cyber and Ermetic. Conversely, more traditional fields, such as network security and EDR, only totaled $23.5 million in seed funding.
Meanwhile, overall funding was primarily concentrated in IoT Security, Cloud Security and VRM. Among these fields, notable standouts include cloud security companies Aqua and GuardiCore, IoT companies Armis (Armis was acquired by Insight Partners for $1.1B in early 2020), Medigate and Cylus, and, in the VRM sector, Vulcan Cyber, Panorays, Axonius and Cymulate.
This is IoT's second year of receiving the lion's share of overall investments. Its continued moment in the spotlight may be explained by its ongoing growth and broadening into new verticals. The IoT market was valued at nearly $190 billion last year, and Statista projects that 2025 will see 74.55 billion connected devices worldwide. Every new type of connected device is, by default, a new attack vector and the proliferation of all things "smart," from homes to cars, medical devices to cities, mandate vertical-specific solutions and protection.
Consumer and business trends may also explain the rising interest in both data protection and security in the cloud; digital transformation has significantly widened and intensified enterprise threat landscapes as cloud adoption increases in prolific numbers. Meanwhile, ensuing data-driven strategies have placed heavier value and importance on consumer data in the cloud, while the broad enforcement of GDPR and CCPA fines have increased pressure on enterprises to prioritize data protection and privacy as well.
Who's buying?
2019 saw a marked upsurge in Israeli startup exits. Some of this year's most notable exits included Demisto for $560 million (Palo Alto Networks), Twistlock for more than $410 million (Palo Alto Networks), ObserveIT for $225 million (Proofpoint), Luminate Security for $200 million (Symantec), Meta Networks for $120 million (Proofpoint) and Indegy for $78 million (Tenable).
Palo Alto Networks spent almost $1 billion in the Israeli market alone in 2019, while Proofpoint firmly rooted itself into the ecosystem with two of its largest acquisitions. This follows Proofpoint's entrance into the Israeli ecosystem two years ago with its acquisition of FireLayers. It has since significantly expanded its operations in Israel in a concerted effort to mine the country's innovation in a time-tested strategy pursued by some of the global cybersecurity industry's biggest players, including Microsoft and Symantec. However, in one of the largest movements in the industry this year, Broadcom effectively removed Symantec from this group of potential acquirers by acquiring it for $10.7 billion in November (Broadcom recently sold Symantec's cybersecurity services to Accenture for a yet-to-be disclosed amount).
Despite the loss of such a significant player, the number of cybersecurity companies projected to enter Israel's cybersecurity space is set to increase as several other large security companies grow more interested in the Israeli market and actively look to make strategic acquisitions of their own.
What's next?
Though the overall number of new Israeli cybersecurity companies formed in 2019 continued on its downward trend, this year's concurrent increase of seed funding paints a more complete and optimistic picture of market maturity and promise. The quality of Israel's cybersecurity startups is on the rise as founders grow more experienced and innovation is adjusted to the true needs and direction of the market.
Broadly speaking, in light of these developments, Israel remains highly attractive to prospective investors and companies looking to expand. Indeed, the Cyber Nation continues to drive innovation in the cybersecurity industry and draw in larger and more active local and foreign investors. This includes an uptick in private equity activity that will likely shake up the current order in the coming years as the trend continues.
With so much innovation, experience and expertise concentrated in the Start Up Nation, those that wish to maintain their mark and status in the cybersecurity market will have little choice but to tap in. The few big cyber players that have yet to place their bets on Israeli-native companies will likely do so in the upcoming years. Time will tell what sort of impact these developments will have on innovation and the overall evolving landscape.
Given Israeli entrepreneurial interest in making bigger waves in the industry themselves, as well as their increasing desire to hone their expertise, customers likely stand to gain the most from what is sure to promote a well-spring of prodigious solutions. As we move onto a new year of exploring the market's most promising opportunities, we bid farewell to another fascinating and significant year for cybersecurity and look forward to keeping a close watch on what is to come in the next decade.

Note: Cycode, Satori Cyber, Vulcan Cyber, Medigate and Axonius are YL Venture portfolio companies. YL Ventures has been an investor in Twistlock and FireLayers since seed round.